Bachelor Day 05
Oh the drama!
*looking around* Is it safe?
Okay so we continue with the morning flirts a lovely round of 3 each and we start this morning with #6 Sankiro Itachi. Lovely voice Juss!
#7 Francis Foster... *feeling a bit panicky* Juss and #7 Francis are best friends. Thats just sweet. Okay next... quickly please.
Next we have #5 Lara House, and they are just sweet with the holding of the hands thing... next?
#3 Anne Wise, lovely to see you... whats this? Does he dare.. oh he dares...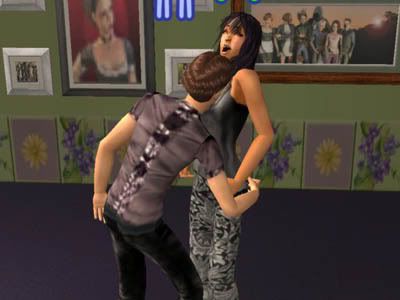 Getcha some Juss!
Let's have some breakfast before our noon elimination shall we? Lovely just lovely... is it time? Right.
*ding*
It's noon and time yet again to take a look at the relationship numbers.
3. 100/50
5. 100/47
6. 100/63
7. 98/51
HA! Good-bye #7, good-bye sensitivity classes, good-bye, farewell and... What?! Noooooo!!!!

Fourth casualty-elimination is #5 Lara House
What happened?!
Lara:
Wow, it was so close. 2 points. I lost by 2 points. Man the competition is tough!
She is a buffet-belly-alcoholic-lazy-bum, how could you lose?
Lara:
Because Juss is a sweet man and not superficial and insensitive like you!
I am not insensitive! I'm not, I'm not... *looking around to see the guards behind her* More classes... *sigh*
Group Date - Hot Tub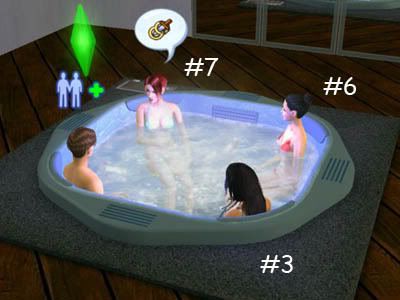 Guest host:
I'm back! And just in time for the hot tub date. Interesting subject of discussion there... do you think she watched the first season, too?
Yes, #6 Sankiro, that is right. Next up in the one on one dates is the kiss! Bow chicka bow wow!
1 on 1 - Kiss Romantic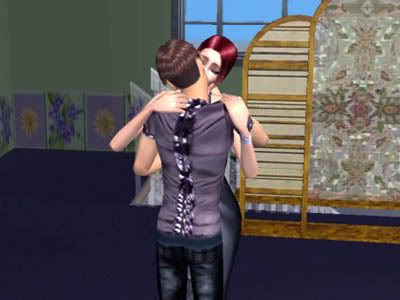 First upstairs after dressing in their formal wear is #7 Francis Foster. Lovely in black and enjoying her romantic kiss with our Bachelor. Next please!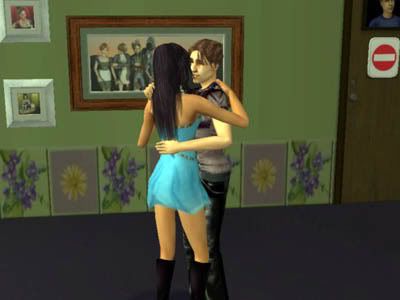 Oh look, its the hussy in blue. I did not just say that, she is a vision of loveliness...
*watching guards back off*
Oh my Gosh, I'm as crazy as my mother!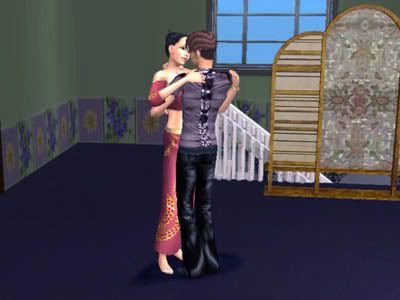 And now for my personal favorite and our Bachelor's, #6 Sankiro Itachi.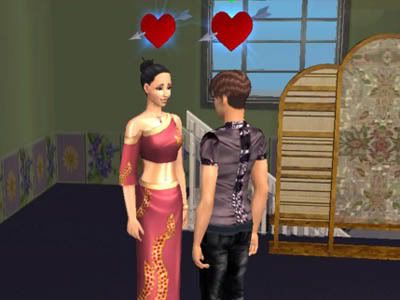 Red hearts! Oh wow, we have true love! No more denying it, I was right! Yeah me!
Not wasting any time, #6 Sankiro attacks our Bachelor with an autonomous make-out. That's my girl!
Is it just me, or is it kinda creepy that she won't close her eyes? Okay as long as its not just me.
Feathers are a flyin' with a pillow fight on the second floor. I guess with the stress of the competition between the ladies, a smack to the head with a pillow is a welcome relief.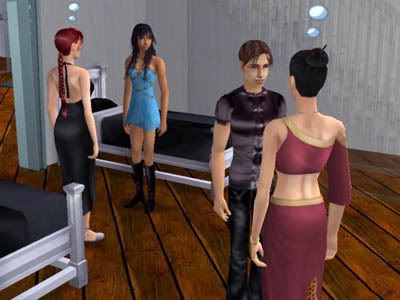 That look is familiar. Isn't that the same look Jack got when he... Quick to a commercial break! Now please!!
Commercial Break >>