Day 03
Feathers flying everywhere:
Good morning everyone... huh, what is it with you guys and the pillow fights? Every time I turn around someone is hitting someone else with a pillow.
On the other hand, keep up the good work. *ahem* Right, Mary we have a bit of flirting to do before noon.
What do you mean we don't have any pictures? Not one picture of a flirt this morning? Are we sure any flirting has even transpired?! Well bugger, now what? Okay fine... *hem hem*
We interrupt this program to bring you the following announcement:
Due to technical difficulties, we are unable to bring you any photographic proof of any alleged flirting that may or may not have happened this AM, suffice it to say each charm was accepted. Now back to the program already in progress...
It's noon and time once again to take a look at the relationship numbers.
1. 53/35
3. 73/31
4. 40/29
5. 52/28
6. 47/33
7. 38/28

Second casualty-elimination is #7 Juss Habinfunn!
Juss:
A man, this sucks! I was just getting my groove on and then this happens.
What happened, Juss?
Juss:
You didn't see? Oh right, I turned off the cam.. um, there was technical difficulties and uh..
I see... so what does this have to do with your elimination.
Juss:
I was so busy with the cameras and pillow fights, I waited too long to focus on Mary.
Well at least she came to say good-bye to you.
Juss:
That is true, she seemed happy to see me go. I'm not sure which is worse really.
Group Date - Hot Tub
And the lucky bachelors are #1 Hugh Dowery, #6 Juan Love and #3 Noel Edge. Enjoy your soak folks.
They may not be enjoying their conversation, but at least they're following the rules. Well done gentlemen, well done. Just for that, I will give you two first dibs at the chess tables next!
1 on 1 - Chess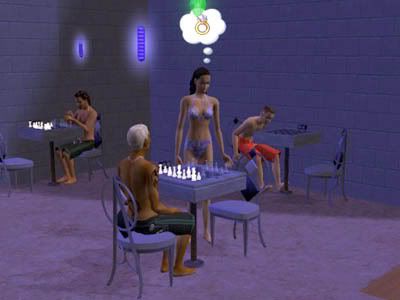 Wow, can they read minds? I mean she is throwing some serious vibes out there. Someone catch them quick!
It was interesting to watch as each one finished their chess date with the Bachelorette, they did a bit of bowling.
The chess games went on so long that they didn't dawdle and each went to bed after the last one. Maybe an hour each was a bit too much. Ah live & learn, next time we will shoot for 30 minute rounds.
Day 04 >>