Day 7
The big day:
Good morning Mary, what's wrong? Buck up lady, you are almost there. Today Noel will leave so you and Jack can live happily ever after! No, I won't tell Jack what you've had to endure to get here… besides he's been a witness and caused most of it. Let's get Noel up here and get his three rejected flirts done and over with shall we?
Come on now Noel, not so rough mister. Noel isn't happy with simply rejecting her flirts, now he has resorted to shoving her away. Rude much?
Okay let's have some fun now. Oh yeah, getcha some of that! Uh huh, tonight you can finally take this relationship to another level. I hope you're sure about this.
It's noon and time once again to take a look at the relationship numbers.
Ha, who am I kidding, I didn't even bother to look. Ciao #3 Noel Edge.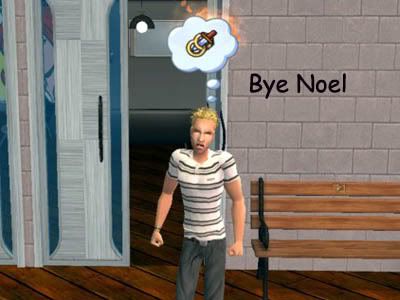 Noel: That cheating, good for nothing, tramp! I can't believe she would treat me like that.

Hey now, those are some harsh words. Does this mean you wont be attending the wedding today?
Champagne Ceremony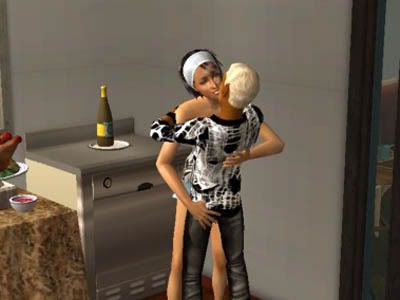 Uh, yeah, I bought you some champagne for the Champagne Ceremony… will you at least pretend you care?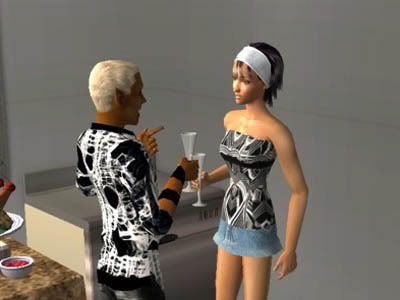 Thank you for humoring me, now we have some details to work out before the wedding. What do you mean, what wedding? I thought the whole purpose of this was to get you two to do the dirty deed… well you need to be married in order to woohoo. Simple, neither of you are a romance sim, so you have to get married.
Some wedding pictures: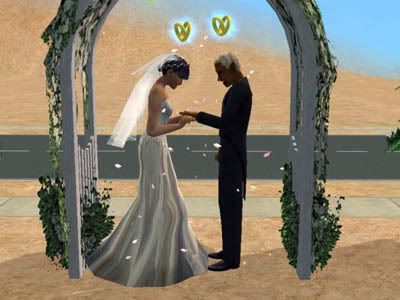 I teleported all 6 of the ex-roomies and 3 actually came to watch the nuptials. Most surprising to me is Juan Love. I guess he is a forgiving sim, what a great guy. The other three? Oh they were busy bowling!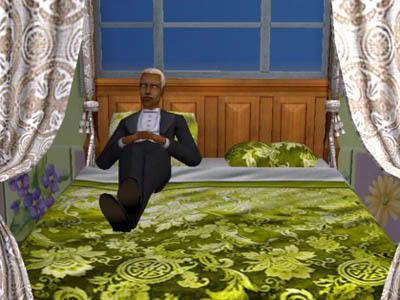 Ah the anticipation. Give her a moment, she is taking off her veil and slipping in to something more … comfortable. *wink, wink, nudge, nudge*
Congratulations you two, I wish for you nothing but happiness. You may now… well have some privacy! Okay lets get the cameras out of here…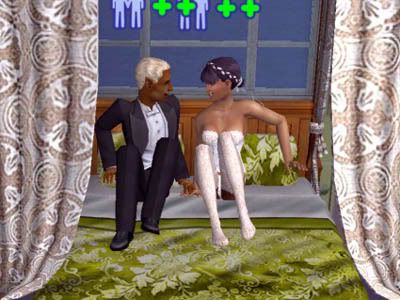 Hey, move it guys, they deserve privacy, cut that camera off!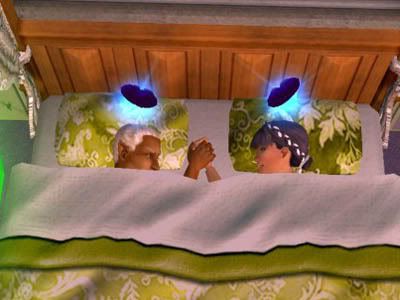 Darn, no chimes... I was hoping for a real happy ending. Ah well, if at first you don't succeed!
Bow Chicka Bow Wow!