Day 4
Playing dress up:
Wow, you're stunning. What's wrong? Oh don't be nervous, you are half way there. You'll be fine; don't let them see your fear. You need to flirt twice with each man before the eliminations at noon. Are you ready? That's my girl.
#3 Noel Edge is ready to accept your flirtatious behavior. I do believe we have our first crush, on both sides no less!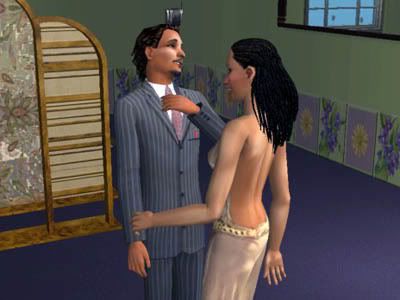 #1 Hugh Dowery, quite handsome in his suit and is very receptive to your advances. I saw his pink hearts, yes!
Not to be out done, your favorite #6 Juan Love is wowed by your advances. Odd, no pink hearts on either side, I thought you liked this guy…
Speaking of dashing men in suits, #5 Jack Indabocks is more than willing to share his pink hearts with you.
What is this? #4 Buddy Toall is tickling you? Oh you haven't flirted yet, okay well get to flirting it's almost noon.
Wow, what happened? They all just suddenly came up here? Wait, to the third floor… the floor no one goes to and suddenly they all want to be here. Girl you are better than we both hoped for!
Nice, I like this hair cut… why the change? Oh killing time behind a locked door. Yes, well a makeover is always good for calming the nerves.
Apparently I'm not the only one who thinks this is a good style for you. What in the… okay Jack seems to have picked up on your chess playing vibes.
It's noon and time once again to take a look at the relationship numbers.
1. 66/43
3. 100/42
4. 82/42
5. 83/41
6. 87/46
What? No, I demand a recount! I want a mulligan! I know this isn't golf, but I really like… I know this isn't about me and I know what the rules say, I told YOU about the rules… *sigh* life isn't fair. Just hold him for me while I pull myself together.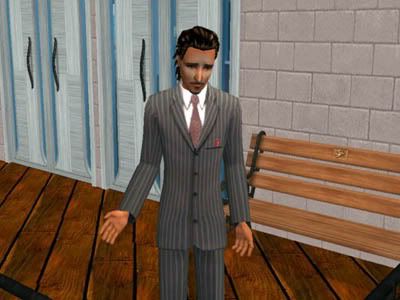 Third casualty-elimination is #1 Hugh Dowery
Hugh: I blew it. She is absolutely gorgeous, I have 2 bolts for her and I blew it.

But why Hugh, what went wrong?
Hugh: In group situations we did wonderful, as long as we didn't associate just one on one, we were fine. Every time I opened my mouth we argued about environmental issues, she is such a tree hugger!
I'll miss you Hugh.
Hugh: Um, right… take care, I need to go in and say my good-byes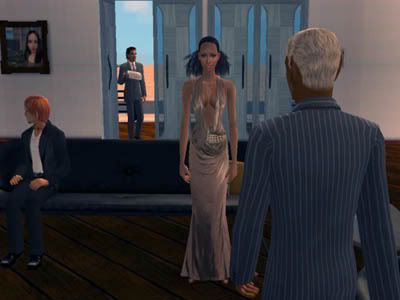 Freeze! Hold that thought Jack! Now is not a good time. Just wait another 2 minutes while we take this commercial break.
And now back to the show >>